For the past 11 years I have been a fully qualified Personal Trainer and Sports Massage Therapist and work with a wide range of male and female clients, of all ages and abilities, in Kent, London and the South East. I formed my company, Valkyrie (based on a strong, female figure in Norse Mythology) at the beginning of 2014 to continue helping my clients achieve their personal goals.
I offer a wide variety of training, from body weight to kettle bell training and weight lifting. Sessions can be arranged at your home, place of work or a local park, which offers both convenience and flexibility.
The training requires commitment, but leads to the satisfaction of successfully achieving your goals, increased self-esteem and living a healthier life style.  Instead of feeling intimidated and daunted, Valkyrie training is empowering, holistic and fun.  It achieves long-term results in:
Increased Fitness
Weight reduction
Building strength and muscle
Toning and flexibility
Helping mothers during/after their pregnancy
I provide all the necessary equipment, which includes kettle bells, TRX, sandbags and bodyweight.
Prior to being a personal trainer and sports massage therapist, I studied for a degree, the final major of which was the rebranding of a Personal Trainer. After university, despite loving many aspects of graphic design, I realised I was not suited to a sedentary lifestyle and wanted to incorporate my passion for sport and fitness in a new career.   Whilst retraining, I worked for Nike for their 10k runs and at an excellent Health and Fitness Centre and soon realised that for many people gym membership is not the best option for the following reasons:
Gym membership requires considerable monthly financial outlay and it is well known within the industry that attendance drops off dramatically after 3 months, with clients locked into expensive 12 month contracts
Many people, both men and women, find a gym environment intimidating
Not everyone has the convenience of living near a gym and factors such as travelling at busy times and additional parking costs act as a deterrent
Along with many people, I had become part of the weight loss industry, which is worth billions and promises quick fixes and rapid weight loss with little effort, through a multiplicity of fashionable, celebrity endorsed diets, DVD workouts and vitamin supplements.  All are expensive. Most fail.  They lead to disappointment and unhealthy yoyo dieting. I discovered the best and most effective way to lose weight and regain fitness and Valkyrie represents my strong held beliefs and philosophy of encouraging men and women to unlock their potential through a combination of nutrition and fitness programmes, tailored to your specific needs and life style. It requires commitment and hard work, but the benefits are the achievement of your individual goals. increased self- esteem and living a healthier life style.
It is not a case of 'one fits all training'.  I soon establish who will respond to the 'Sadistic with a Smile' mantra and those of you who require a more gentle, supportive approach.  Once your specific goals have been identified, we will work together on programmes suited to your needs and specified time frames.
Why Choose Me?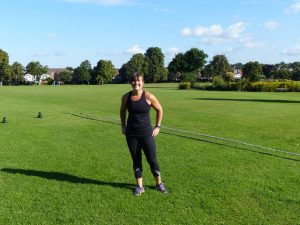 Valkyrie offers an alternative way to train and achieve tangible results. Most of us would like to tone up, get fit or lose weight, but often it is too easy to find excuses not to do something, rather than find reasons to achieve those goals.  I can relate to many of my clients because I have been in a similar situation and I have found a way to overcome those doubts and reach my own personal goals. There are no quick fixes but there are ways to achieve your goals.
I am constantly upgrading my qualifications and believe in a process of continuous personal development and education in all areas of training, massage and nutrition, in order that I can provide you with proven ways and methods to reach your full potential.  We all have our own demons and I am here to help you understand that anything is possible with the right mind- set.
I am passionate about my work as a personal trainer and derive as much satisfaction motivating men and women to maximize their full potential and reach those personal bests, as I do helping a young mother get back into shape or someone who is desperate to lose weight and regain confidence.  Motivate. Encourage. Inspire. Together we can.
Qualifications and Education
Ushomi Training, Mobility and Nutrition Workshop (Sep 2013)
Diploma in Sports and Remedial Massage – LSSM (complete Oct 2011)
Manual Lymphatic Drainage Australian Qualification (September 2010)
Certificate IV in Massage Therapy Practice – Victoria Uni (June 2010)
Advanced workshop in Kettlebells with Steve Cotter (Nov 2009)
Movement and Nutritional workshops – Fitness First  (Oct/Nov 2009)
Olympic Weightlifting for Fitness Professionals (July 2008)
Advanced Extreme Kettlebell Instructor (2007)
Extreme Kettlebell Instructor (EKI) (2006)                           
Pre and Post Natal training – Fit to Deliver (June 2006)
RPM and Body Pump Instructor
NASM Certified Personal Trainer (August 2005)
C.H.E.K Institute Scientific Core Conditioning (March 2004)
Diploma in Personal Training (Dip. PT) – Premier Training and Development, Central London (March – June 2003)
Sessions are available:
Monday to Friday – 6.30am to 9.00pm
Saturday – 8.00am to 10.30am
Outdoor Training
(commonly called bootcamps)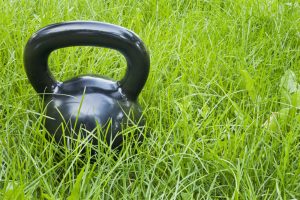 Outdoor training is an excellent way to exercise with an eclectic group of people, who will encourage, motivate and inspire you to achieve your potential.  It is well known that outdoor training gains excellent results because of the affects it has on your muscles, cardio and respiratory systems. Benefits include:
A constantly changing environment which stimulates your brain
Vitamin D provided by exposure to the sun, which is good for your immune system and bones
Psychological benefits, which reduce anxiety and high levels of stress associated with our busy and demanding life styles.
Exercising outdoors is physically more challenging than running on a treadmill in a gym, because varying terrain and inclement weather offers different challenges and engages different muscle groups.
It is both fun and demanding and achieves tangible results
Valkyrie Group Training takes place each week at:
Whitehall Recreation Ground
Tuesday (30 min HIIT session)
9.45am
Tuesday
7.00pm
Wednesday
9.15am
Thursday
9.15am
Saturday
9.30am
Sports Massage Therapist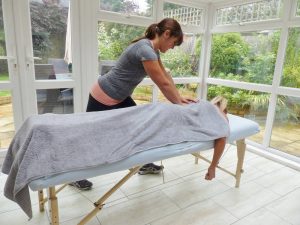 After several years as a sports trainer, I became interested in the area of sports massage and the impact it has on training and fitness. This was, in part, motivated by personal experience when I began to realise the negative impact of repetitive, continuous training and the lack of attention paid to stretching and mobility work.  I studied Sports Massage in Australia, qualifying as a therapist when I returned to the UK in 2011. It is an essential part of all training programmes, from professional athletes to a member of the weekly five-a-side football team.  Repetitive training and inadequate warm ups and cool downs can lead to easily avoidable injury and precious time away from your chosen sport or fitness regime.
Sports massage offers the benefits of promoting faster recovery after training, the prevention of injury and improves overall performance.  There is a commonly held misconception that all massage involves an element of pain, but depending on the level of massage it can be enjoyable experience.
I use a portable massage table, which allows sessions to be carried out in the convenience of your own home.
Sports massage techniques include:
STR (Soft tissue release)
MET techniques
RI (Reciprocal Inhibition
Stretching Techniques
Deep Tissue Massage
Appointments are available
| | |
| --- | --- |
| Monday to Friday | 6.30am to 9.00pm |
| Saturday | 8.00am to 10.30am |
If you have any personal training requirements or would benefit from sports massage therapy, please do not hesitate to contact me on